Our delivery service offers a big selection of authentic Thai foods – whether it be simple rice and noodle dishes, stir-fried classics, or 300-year-old court recipes. Simply order online or by phone. Please enjoy your food! Sincerely, Your Ban Thai Team.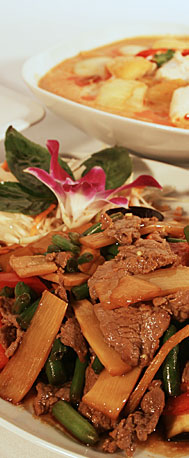 Welcome to Ban Thai Restaurant Take-Away and Delivery Service!
We deliver only to selected areas in Mainz. Kindly click one of the postal codes to begin.
Large orders (Minimum € 150,00) must be completed 24-hours in advance.
Ban Thai Mainz
Opening hours
Take-Away
Mon-Son: 12:00 - 15:00 Hrs. and 18:00 - 23:00 Hrs.

Delivery Times
Tue,Wed,Thu,Son: 12:00 - 14:30 Hrs. and 18:00 - 21:00 Hrs.
Fri-Sat: 12:00 - 14:30 Hrs.