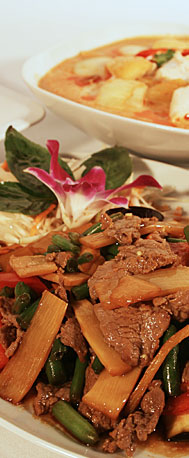 Announcements
Ban Thai Restaurant, Mainz
Closed Mondays
We will be closed for vacation from
Fri. 2 June to Mon. 3 July 2023
-------------------------------------
We're Looking for You!
Ban Thai Restaurant Mainz
Seeking: Waiter / Waitress
Starting: July 2023
Knowledge of Thai Food Preferable
Responsible and Polite Personality
also during Stressful Times
Basic Knowledge of English
Come Join our Team.
Contact: Mr. Chang
Tel 06131 / 220122
-------------------------------------
ร้านอาหารบ้านไทยไมนส์
กำลังมองหาเพื่อนร่วมงานในตำแหน่งพนักงานเสริฟมีความรู้เรื่องอาหารไทย
--มีความรับผิดชอบ สุภาพ และพร้อมรับแรงกดดัน
--มีความรู้พื้นฐานด้านภาษาอังกฤษบ้าง
--เริ่มงานเดือนกรกฎาคม 2023
ผู้ที่สนใจ กรุณาติดต่อคุณช้าง
โทร. 06131/220122
Ban Thai Restaurant, Mainz,
for a Sumptuous Dining Experience!
Welcome to Ban Thai Restaurant Take-Away and Delivery Service!
We deliver only to selected areas in Mainz. Kindly click one of the postal codes to begin.
Ban Thai Mainz
Opening hours
Take-Away
Tue-Sun: 12:00 - 15:00 Hrs. and 18:00 - 22:30 Hrs.

Delivery Times
Tue,Wed,Thu,Sun: 12:00 - 14:30 Hrs. and 18:00 - 21:00 Hrs.
Fri-Sat: 12:00 - 14:30 Hrs.