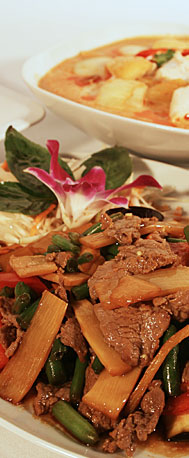 Announcements
Ban Thai Restaurant, Mainz
Closed Mondays
We will be closed for vacation from
Fri. 2 June to Mon. 3 July 2023
-------------------------------------
We're Looking for You!
Ban Thai Restaurant Mainz
Seeking: Waiter / Waitress
Starting: July 2023
Knowledge of Thai Food Preferable
Responsible and Polite Personality
also during Stressful Times
Basic Knowledge of English
Come Join our Team.
Contact: Mr. Chang
Tel 06131 / 220122
-------------------------------------
ร้านอาหารบ้านไทยไมนส์
กำลังมองหาเพื่อนร่วมงานในตำแหน่งพนักงานเสริฟมีความรู้เรื่องอาหารไทย
--มีความรับผิดชอบ สุภาพ และพร้อมรับแรงกดดัน
--มีความรู้พื้นฐานด้านภาษาอังกฤษบ้าง
--เริ่มงานเดือนกรกฎาคม 2023
ผู้ที่สนใจ กรุณาติดต่อคุณช้าง
โทร. 06131/220122
Ban Thai Restaurant, Mainz,
for a Sumptuous Dining Experience!
Your Opinion is important to us!
Our customers are our most valuable asset.
Your comments help us to regularly improve our products and services.
Please rate your experience with Ban Thai Restaurant.